In collaboration with Earth Analytic, Inversion Labs is working to design a custom weather viewer for the SmartMountain platform. SmartMountain is a web application utilizing a suite of ArcGIS tools to visualize terrain, manage snow safety, and monitor ski area operations. The goal of this project is to provide an embedded weather viewer within the SmartMountain framework, allowing users to quickly access data for weather stations located at or nearby a ski area. As an initial proof of concept, we developed a custom view of the Bridger-Teton Avalanche Center's weather data for display in the SmartMountain application for Jackson Hole Mountain Resort. Below is a screenshot displaying the custom weather viewer that opens when a user clicks the "SmartMountain Weather" icon: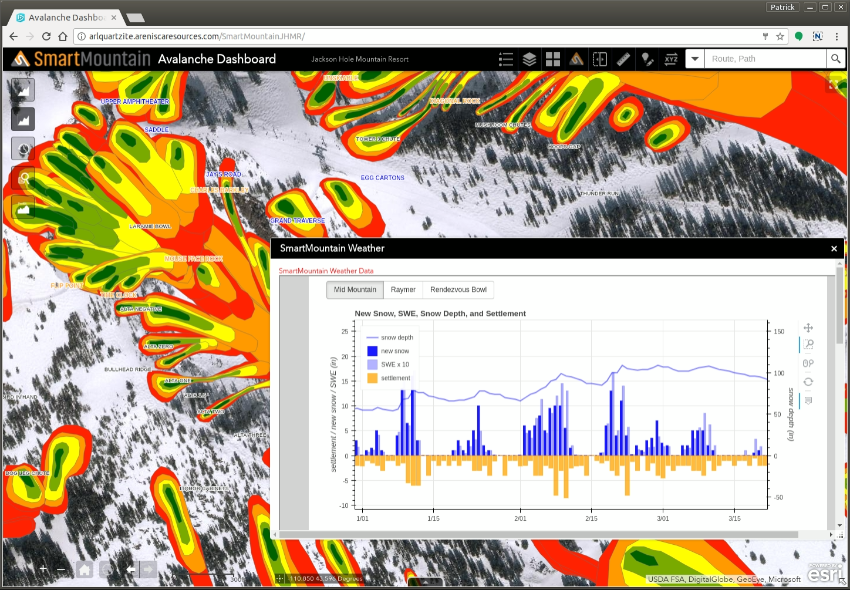 With the addition of weather plots to the SmartMountain application, users are provided a single platform to view terrain, avalanche event history, and corresponding weather conditions. For example, snow safety managers at a ski resort can analyze avalanche events that have occurred over the previous five days while also viewing a graph of received snow totals, air temperature, and wind speeds for the same period.
Future Development
In the current implementation, SmartMountain users have access to a single view of weather data for the current winter season with tools available to zoom and pan to the desired time period. Possibilities for future development include linking the weather graphs to a query tool where users can select a specific date range and a specific set of weather variables to view. In addition, users will be able to click directly on the location of various weather stations that are within the viewable terrain, providing specific weather history for that station.
As an initial proof of concept for Jackson Hole Mountain Resort, Earth Analytic has the potential to provide an option for custom weather graphing for additional ski resorts that rely on weather data from on-mountain weather stations. Inversion Labs is excited to collaborate on this project and looks forward to exploring and testing the SmartMountain application during the upcoming 2017-18 winter season. If you are interested in the potential to bring SmartMountain to your ski resort, learn more at www.earthanalytic.com.