UPDATE: This post describes the initial rollout of the "Snowpack Tracker" style. As of November, 2020 the "Historical" and "Snowpack Tracker" styles have been combined into a single page. We also now support two additional pages: "Storm Tracker" and "Event Radial Plot".
In collaboration with the Bridger-Teton Avalanche Center (BTAC) in Jackson, WY, Inversion Labs recently released a new visualization tool for avalanche and weather data. Snowpack Tracker provides a fixed time-view for the previous 30-days, displaying a basic set of panels selected from our previously developed Historical Weather Graphs. We have also added several new variables, updated daily by BTAC forecasters:
SKY: Sky Condition, using SWAG codes (CLR, FEW, SCT, BKN, OVC, X)
SH/NSF: Surface hoar / near-surface facets. Yes or No.
Avalanche hazard grid: displays colors & numbers corresponding to the Teton area avalanche hazard rating for low, mid, and high elevations.
30-day cumulative sums for new snow and SWE (update with location-switching buttons and date-range slider)
While the Historical Graphs are better suited for research and forecasting purposes, the Snowpack Tracker style will better serve the general public, guides, avalanche educators, or anyone needing a quick and simple view of recent conditions. We have also developed a mobile-friendly view of Snowpack Tracker. Navigation to either the Historical Graphs or Snowpack Tracker on a mobile device will automatically re-direct to the mobile display.
The April, 2018 edition of The Avalanche Review features a news article describing Snowpack Tracker, and figures using the image export tool are featured in an additional article on the season progression for the Teton area.
Here is a screenshot of the Snowpack Tracker desktop display: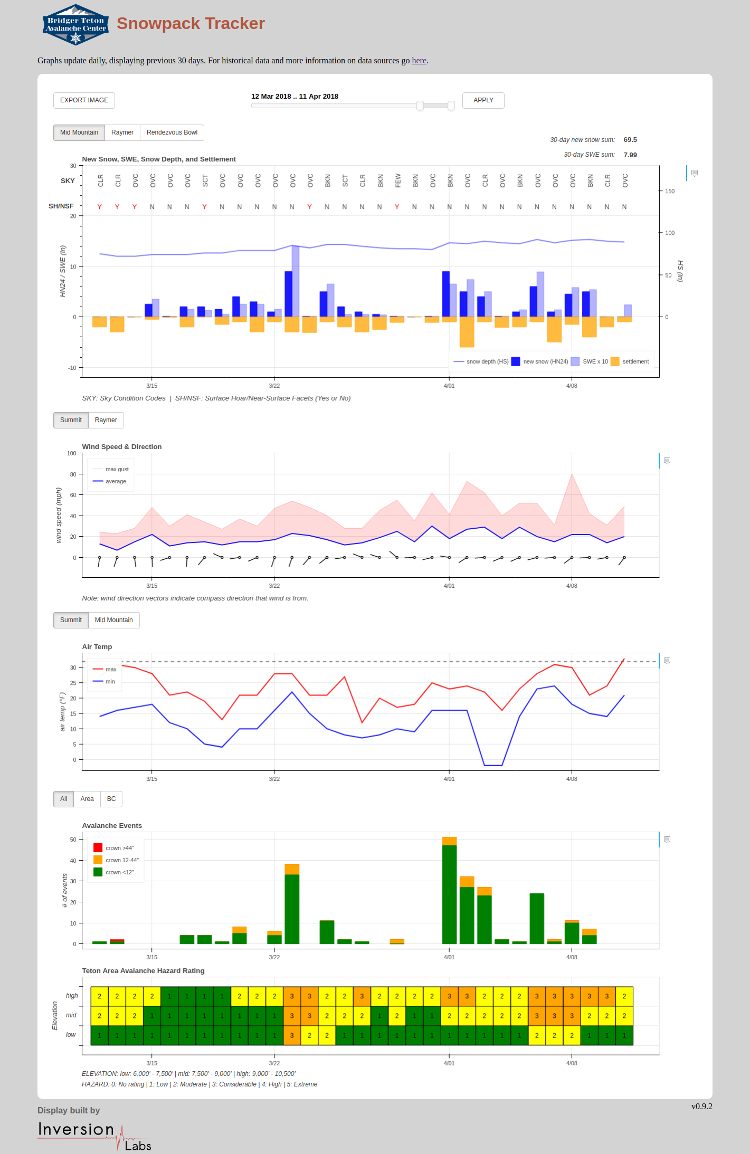 The live site is available here:
http://www.snowpacktracker.com/btac/snowpacktracker
The page is also linked to the public BTAC website, under "Data Center" --> "Snowpack Information" --> "Snowpack Data"
If your Avalanche Forecast Center or Highway / DOT Avalanche Control program is interested in adopting Snowpack Tracker, please contact us for more info! Inversion Labs can customize a product for your weather stations and database structure.