In collaboration with the Bridger-Teton Avalanche Center (BTAC) in Jackson, WY, Inversion Labs recently released a new visualization tool for avalanche and weather data. The Snowpack Tracker provides a fixed time-view for the previous 30-days, displaying a basic set of panels selected from our previously developed Historical Weather Graphs. We have also added several new variables, updated daily by BTAC forecasters:
SKY: Sky Condition, using SWAG codes (CLR, FEW, SCT, BKN, OVC, X)
SH/NSF: Surface hoar / near-surface facets. Yes or No.
Avalanche hazard grid: displays colors & numbers corresponding to the Teton area avalanche hazard rating for low, mid, and high elevations.
30-day cumulative sums for new snow and SWE (update with location-switching buttons and date-range slider)
While the Historical Graphs are better suited for research and forecasting purposes, the Snowpack Tracker will better serve the general public, guides, avalanche educators, or anyone needing a quick and simple view of recent conditions. We have also developed a mobile-friendly view of the Snowpack Tracker. Navigation to either the Historical Graphs or the Snowpack Tracker on a mobile device will automatically re-direct to the mobile display.
UPDATE: As of March, 2018 Snowpack Tracker now has a date-range slider tool allowing the user to adjust the graphs to any time range from the beginning of the season forward. We have also added an image export tool, allowing export of high-quality .png images for presentation or print.
The April, 2018 edition of The Avalanche Review features a news article describing Snowpack Tracker, and figures using the image export tool are featured in an additional article on the season progression for the Teton area.
Here is a screenshot of the full Snowpack Tracker desktop display: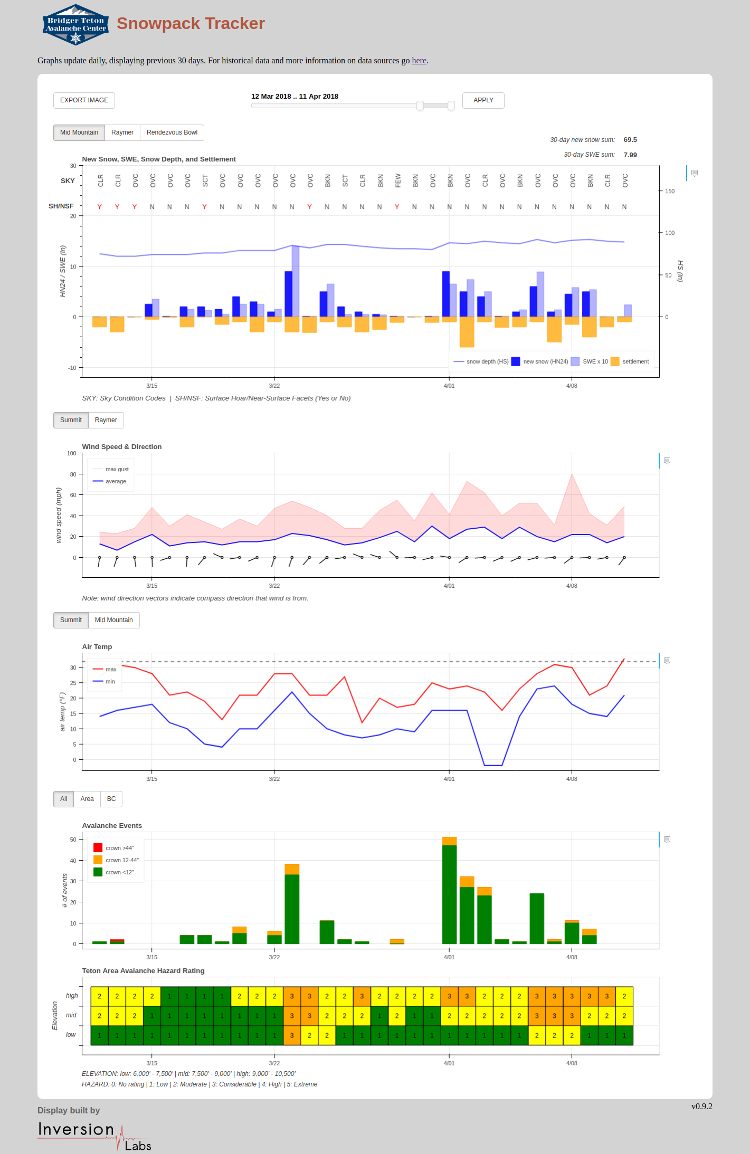 The live site is available here:
http://www.snowpacktracker.com/btac/snowpacktracker
The page is also linked to the public BTAC website, under "Data Center" --> "Snowpack Information" --> "Snowpack Tracker"
If your Avalanche Forecast Center or Highway / DOT Avalanche Control program is interested in adopting Snowpack Tracker, please contact us for more info! Inversion Labs can customize a product for your weather stations and database structure.
Screenshot video of interactive features
Posted below is a screenshot video demonstrating the interactive tools that are available when viewing the web plots on a desktop screen. These include:
Date-range slider tool
Buttons to switch locations
Hover tool to display data values
Drop-down menu to select previous seasons (Historical Graphs only)
Box zoom, wheel zoom, and pan tools (Historical Graphs only)
Image export buttons (entire screen on Snowpack Tracker, individual panels on Historical Graphs)
Many thanks to the developers at Bokeh that have provided the open-source software tools backing our web plots.
Historical Graphs demo:
The following video demonstrates tools available with the "Historical Graphs", which is a full-featured version of Snowpack Tracker.