Inversion Labs recently completed customization of enclosures for the Teton County Air Quality project. After a few days in the shop, we now have weatherproof enclosures to house three Aeroqual S500 monitors, allowing simultaneous measurements of Nitrogen Dioxide (NO2), Ozone (O3), and Particulate Matter (PM10/PM2.5).
The Aeroqual monitors will be used for mobile measurements (handheld) at select locations. In addition, the monitors will be installed for 2-week periods at five roadside locations in Teton County, WY. The enclosures will be visible on street posts at major intersections starting in late June and running through early September, 2018.
Huge thanks to Peter Carman at Wyoming Controls for shop space and advice on this project!
Customizing existing Aeroqual enclosures
Aeroqual produces an enclosure specially sized for the S500 monitor with gas sensor heads. These enclosures will be used for the Nitrogen Dioxide and Ozone monitors. We mounted two enclosures together on unistrut railing and wired the power supply to a single plug with power adaptors mounted inside the boxes. This mounting system will allow for installation on a range of post diameters.
Two Aeroqual outdoor enclosures mounted together and wired for a single power source: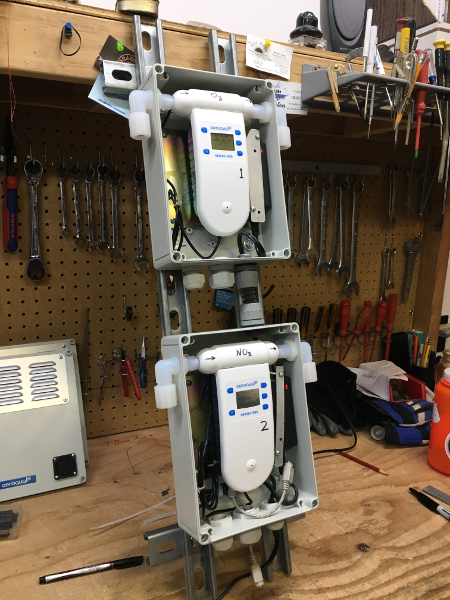 Close-up showing the custom wiring configuration: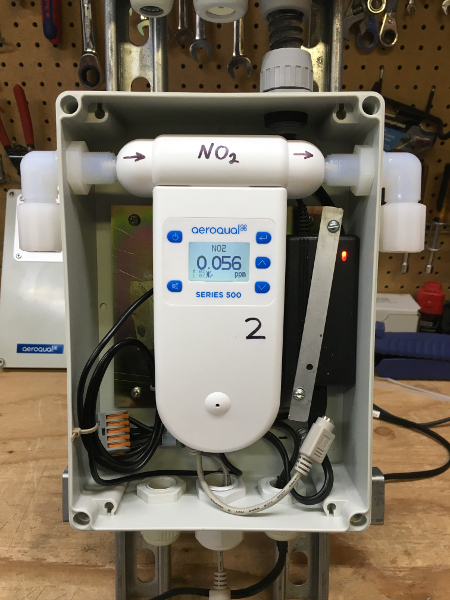 View of the enclosures temporarily mounted on a railing of the WYDEQ monitoring site in Pinedale, WY for a co-location experiment in December, 2017: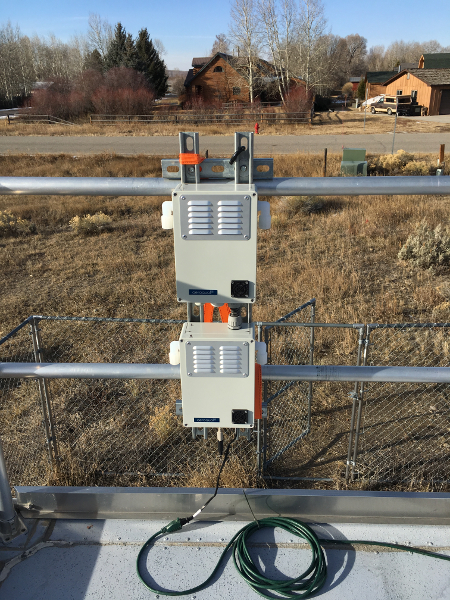 Building a new custom enclosure for the Aeroqual S500 particulate matter monitor
The Aeroqual S500 particulate matter sensor head (PM10/PM2.5) was released in Fall 2017, however an outdoor enclosure that fits this sensor is not currently available. Measurements of particulate matter at our roadside monitoring sites will be an important component of the summer 2018 measurement campaign, motivating Inversion Labs to build a custom enclosure specially designed to house this sensor.
We ordered a small weatherproof enclosure box manufactured by Altelix and added several custom features including:
Air inlet with short path-length for particulate matter sampling. The PM sensor uses a small fan to draw air into the sensor, so it was an important goal to make any additional path-length in the enclosure as short as possible. This minimizes any changes to calibration values that could result from changes in flow rate.
Air ventilation on the front and side panels to allow for exhaust from the monitor to exit the enclosure, and to prevent overheating in the sun.
Custom power wiring and internal power adaptor mount.
The Aeroqual S500 with particulate matter sensor head installed in the custom enclosure: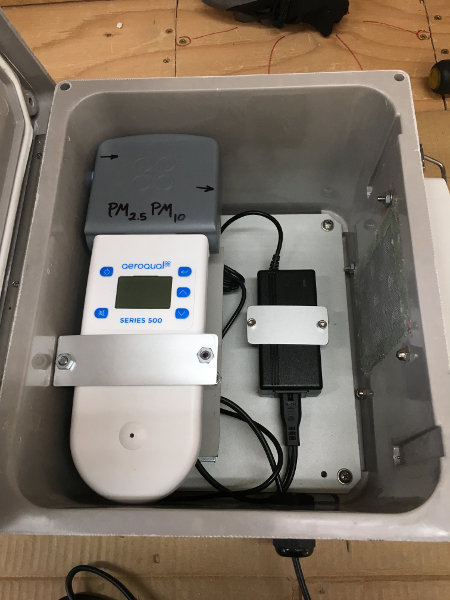 The internal mounting components are installed on an aluminum mounting plate. Drilled ventilation holes are visible on the enclosure in the background: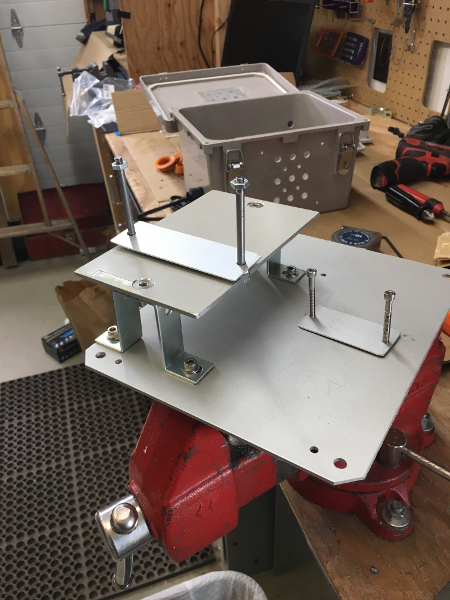 Using a specifically sized segment of tubing over the particulate matter inlet allows the air sample to travel into the enclosure through a short path length. This is 7/16" ID X 1/2" OD PTFE tubing (non-reactive). Finding tubing with a tight fit around the sensor inlet was a key component: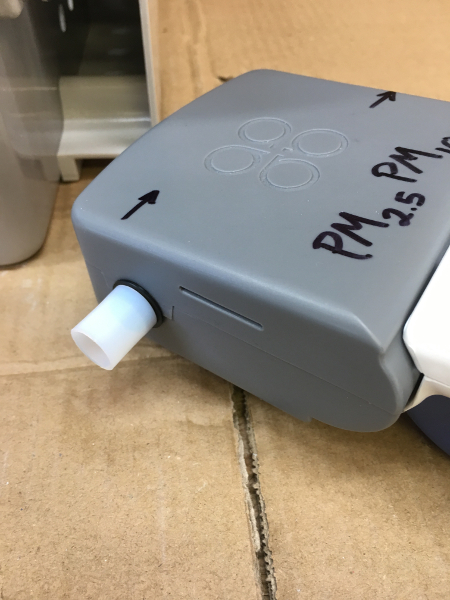 The finished enclosure, with weather shrouds covering the screened ventilation holes: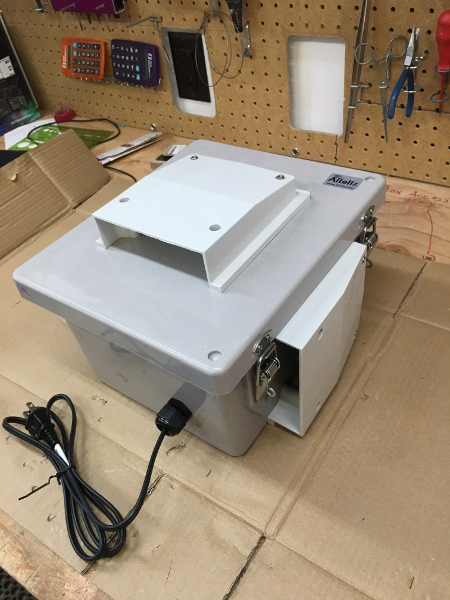 A 90-degree PVC connector provides weather protection for the sample inlet while still allowing a relatively large volume of air to move by the inlet: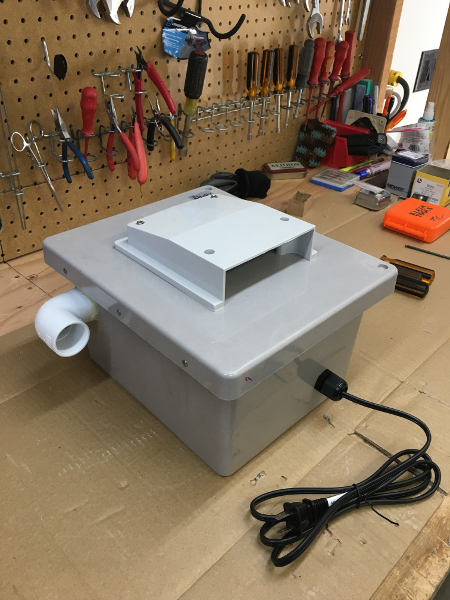 Mounting plates manufactured by Altelix allow for mounting on a range of post diameters: